Nov. 2023. THE PEKIN DUCK STRAIN FROM ORVIA
SERVING THE INTERESTS OF THE DUCK INDUSTRY IN VIETNAM...
Orvia's business revolves around combining its both expertise in selection and multiplication – by breeding specific lines that have demonstrated high growth and reproductive potential over the time and generations – leveraging their strong breeding capabilities.
The Pekin duck strain from Orvia is a perfect example. The outstanding performances of the ST5 products, for instance, makes it highly sought after in international markets, particularly in Asia. The group's R&D programs aim to renew and sustainably improve these unique animal resources asset, enhancing opportunities for exporting our genetics.
The current results and those we are on the verge of achieving on our genetic lines have initiated new and ambitious collaborations internationally wise…
Thus on November 7th, the official signing ceremony for the creation of Orvia Vietnam took place in Ho Chi Minh City. Established by three partners De Heus Vietnam, the Orvia Group, and Lan Chi Farm, this joint venture aims to offer a comprehensive solution to the duck industry in Vietnam. The synergy of each shareholder's expertise is evident in this offering: Lan Chi Farm's state-of-the-art facilities, breeding, and hatching capabilities, De Heus's recognized expertise in animal nutrition, and Orvia's expertise in genetic selection and hatching.
Representatives from the Orvia Group, Royal De Heus, Lan Chi, along with numerous duck farmers from across the country, partners, officials, and press agencies attended the event.
In practical terms, Orvia Vietnam runs multiple breeding sites over the country, upstream supplied with genetic materials (Grandparents) from France to operate autonomously. Vietnamese duck farmers will benefit each year from Orvia strains that have undergone the latest research and technological investments.
Mr. Benoit Gourmaud, CEO of the Orvia Group, stated during the official event: "Orvia's philosophy is fueled by entrepreneurship and innovation, the satisfaction of our farmer customers, and duck meat consumers. The creation of Orvia Vietnam, which we celebrate today, initiated by Orvia – Lan Chi – De Heus, is a clear attestation to the mutual trust in our capabilities and our shared commitment to succeed in this new venture."
During the ceremony, Mr. Koen de Heus, CEO of Royal De Heus, declared: "We are delighted with this partnership with Orvia Vietnam, joining forces with the globally recognized duck genetics supplier Orvia and Lan Chi, a rigorous and efficient Vietnamese company. We share the ambition to provide a comprehensive solution to Vietnamese farmers and actively contribute to the success of the duck industry in the country. Since 2009, we have proven our commitment to supporting various production sectors (swine, poultries, aquaculture species…) by shaping a successful and tailored model for each production. I believe this solid foundation will help us developing a successful value chain model for meat ducks."
Orvia Vietnam now benefits from a specific and adapted selection that meets the requirements of the Vietnamese market. The upcoming genetic lines, with high genetic potential, will fully meet the performance expectations of local farmers.
Mr. Vuong, CEO of Lan Chi Farm, adds: "Lan Chi is proud to collaborate with Orvia, De Heus, and Vietnamese agricultural companies. Our common goal is to develop a sustainable, sanitary duck offering for the benefit of Vietnamese consumers."
In his closing speech, Mr. Johan van den Ban, CEO of De Heus Vietnam and general manager of Orvia Vietnam, reiterated that the commitment of this joint structure is to support Vietnamese farmers and distributors in building sustainable success based on productivity and competitiveness. He emphasized: "De Heus, the Orvia Group, and Lan Chi are here to bring genetics, technology, and recognized expertise to Vietnam. We are committed to providing complete solutions to our customers, healthy and high-performing genetics, high-quality feed, comprehensive technical assistance, access to financing, and support for farmers to better understand consumer expectations."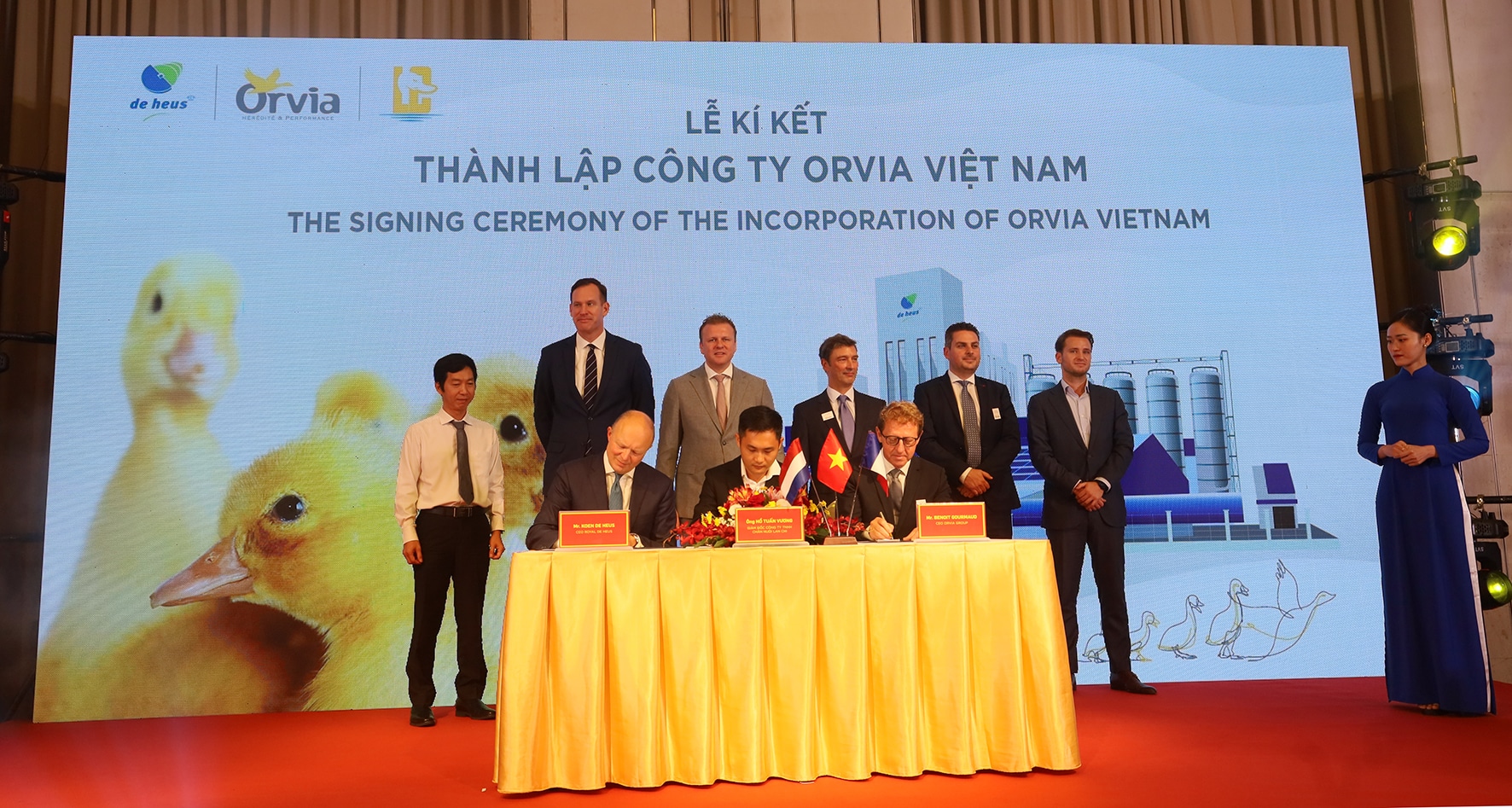 M. Koen De HEUS, CEO Royal De Heus – M. Vuong HO, CEO Lan Chi Farm – M. Benoit GOURMAUD, CEO Orvia Group.
Official signature of Orvia Vietnam's creation – 07/11/2023 – Ho Chi Min City – © Orvia Vietnam
A few points of reference:
Pékin Orvia is :
More than 50% market share in France
More than 60% in Europe,
More than 20% in Asia (before Orvia Vietnam's creation)
More than 10% in China.
Orvia is a family business, almost 50 years old, driven by entrepreneurial spirit and innovation. It has operations in Hungary, Spain and China, and distributors around the world, including Canada, South Korea, Indonesia and Egypt. The group now exports to more than 40 countries worldwide,
In Europe, Orvia is the leader in Mule duck, with a 70% market share, and in Muscovy duck, with a 60% market share (2021 figures).
Orvia continues to innovate every year, devoting a significant proportion of its turnover to genetics via its research and development department.